Secretary's Message
Today's youth have a profound role to play in the building of a nation, a society and the entire ecosystem. At Nimra Institute of Medical Sciences & Research Center , we foster thought leadership and lead change to empower today's generation to assume responsibility, to take charge and act rightly and effectively. "Excellence and Values" are our guiding principles which are reflected in every activity of the Institute.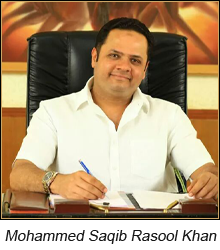 We at Nimra Institute Medical Sciences & Research Center believe that excellence in education is achieved when it is student oriented and delivered with scientific and creative teaching approaches by skilled professors who love their subjects and their students. We are delighted to see the progress we have achieved since our inception. This has been possible through the consistency and commitment of Nimra Institute of Medical Sciences & Research Center towards providing quality education and a flexible learning approach.
Though we will strive to challenge the bounds of our creativity in curriculum design and class work, we remain rooted to and informed by our principals. The culture at campus provides a foundation for what are some of the most important contexts of our educational project, including an orientation towards the greater good. The very mission of continuing education is to provide access to high quality education for diverse populations of learners, and we will work to empower our faculty with resources that will allow them to harness the creative energy of our students
A team of doctors and staff in the institute serve with an ultimate objective of providing comprehensive clinical solutions to the patients. They employ a wide gamut of diagnostic facilities rangingin all departemnts.
I hope you will find the information helpful. Please let us know if we can provide you with other related information.

Best Wishes,
Mohammed Saqib Rasool Khan